Study proves: Cold plasma is a quantum leap for the treatment of chronic wounds
Hamburg / München 06.10.2023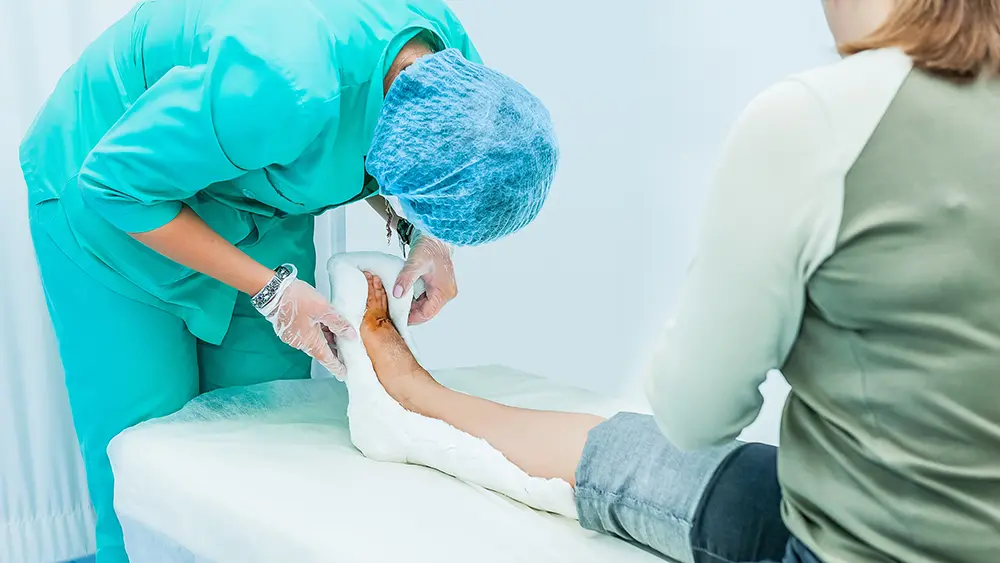 For people with chronic and non-healing wounds, there is a solution: cold atmospheric plasma (KAP). As proven by a pilot study commissioned by Munich-based terraplasma medical GmbH, a company of the Hamburg-based Viromed Group, the innovative wound and skin treatment of the cold plasma technique is superior to standard wound treatment (SWT). The study used the mobile, CE-certified and painless cold plasma device plasma care® from terraplasma medical. The aim of treating (infected) chronic and acute wounds with KAP is to inactivate microorganisms, including multi-resistant pathogens, and to stimulate wound healing.
The clinical study was conducted at two centers, the Landeskrankenhaus (LKH) Bregenz and the LKH Feldkirch, Austria. The study extended from May to October 2021, and the observation period was four weeks per patient. Participation criteria: Presence of hard-to-heal wounds (persisting longer than 6 weeks) of any origin and any wound phase.
Results: Reduction in wound size, promotion of wound healing, pain reduction.
By applying plasma care® to patients, a reduction in wound size of almost 80 percent on average was achieved in less than 30 days – with only seven therapy sessions with cold plasma. In addition, a significant improvement in the wound situation and the patients' quality of life was demonstrated:
Reduction of the pH value improves wound healing:
Treatment with plasma care® reduced the pH value from an average of 9.7 to 7.1, which promotes wound healing. The first plasma treatments were even able to reduce the pH value by one point on average per treatment.
Pain perception:
Pain (indicated on the VAS score from 0 to 10) was reduced from a mean of 3.1 to 0.1 by the use of plasma care® – with nine out of ten patients being pain-free from day seven of treatment, i.e. the third plasma care® treatment.
Future of wound healing: cold plasma becomes the new gold standard
"The future of wound healing lies in cold atmospheric plasma ", says Prof. Dr. Gregor Morfill, German physicist, plasma expert and Chairman of the Supervisory Board of Viromed Medical AG. In order to ensure long-term access to the technology, the Viromed Group – under the leadership of Uwe Perbandt – had acquired a majority stake in the developer and patent holder of cold plasma technology, terraplasma medical GmbH, which emerged from the Max Planck Institute – in August 2022.
"This innovation represents a quantum leap for wound healing", Morfill said. "Recent publications also show that cold plasma applications have economic and environmental benefits in addition to their great therapeutic potential. For one, the total cost of healing chronic and infected wounds can be reduced by up to 52 percent through its use. In addition, in terms of sustainability, wound care and dressing materials can also be saved."
Jens Kirsch, founder and CEO of terraplasma medical: "Other studies also flank our extremely good results." According to Kirsch, for example, one of the key results of a study funded by the German Federal Ministry of Education and Research on the effectiveness of large-area plasma therapy was a significant 214 percent improvement in the wound healing rate. "Elsewhere, in addition to an equally significant reduction in wound area, patients in plasma groups were shown to require significantly fewer antibiotics compared to control groups. Especially in times of increasing antibiotic resistance, this is a revolutionary result and hope for millions of people."
Download complete study as PDF (English)
About Viromed Medical AG
Hamburg-based Viromed Medical AG is part of the Viromed Group, which has been active in the healthcare market since 2004 with a focus on protection against viruses and germs. At the heart of the AG, which has been listed on the stock exchange since November 2022, is the wholly owned subsidiary Viromed Medical GmbH. Its strategic pillar is the innovative treatment methodology based on cold atmospheric plasma for wound healing (cold plasma therapy). A mobile, CE-certified cold plasma device, the plasma care® closes wounds painlessly and inactivates viruses, fungi and bacteria. This innovation represents a quantum leap for wound healing. In addition, further medical applications are possible in the fields of cosmetics as well as dermatology and ENT. To ensure long-term access to the technology, a sister company from the Viromed Group acquired a majority stake in the technical developer and patent holder of the cold plasma technology, terraplasma medical GmbH in Garching near Munich – which emerged from the Max Planck Institute – in August 2022.
Viromed Medical AG has a broad customer base in the DACH region, including various DAX companies, e.g. Volkswagen and Lufthansa, as well as federal states and various federal ministries, 1,100 hospitals, 7,000 pharmacies and 11,000 medical practices. www.viromed-medical-ag.de
---
Media contact
Petra Rulsch PR – Strategic Communication +
Ballindamm 27
20095 Hamburg
Mobile: +49 160 944 944 23
E-mail: pr@petra-rulsch.com
www.petra-rulsch.com
https://www.viromed.de/wp-content/uploads/2023/09/jwc-veroeffentlichung.jpg
400
495
Viromed
https://www.viromed.de/wp-content/uploads/2022/09/logo.png
Viromed
2023-10-06 08:54:37
2023-10-30 09:18:33
Study proves: Cold plasma is a quantum leap for the treatment of chronic wounds